Internships
Internship Information
Many students in the MPA program are working professionals who may wish to explore other careers or positions, as well as for those with little or no work experience. The internship is designed to serve both of these groups of students.
The basic internship function is to impart "real world" experience to the learning process, a working world application of principles that is not feasible in the classroom. The knowledge, skills, and experience gained by interns vary considerably depending on the functions of one of the dozens of state, county, and local agencies, as well as nonprofits, providing the internships. However, a majority of interns have indicated that the internship was a very valuable part of their SPA education. Except for those interns already appropriately employed, a large number of interns have been offered desirable administrative positions with the sponsoring agencies following the conclusion of their internships. Many others have continued working in their intern agencies for months following their internships. Internships serve a number of related purposes:
Deepen student awareness of his/her obligations to the public as a professional;
Enhance communication and resource links between University and practicing professionals;
Provide the School of Public Administration with an opportunity to evaluate its graduate program through feedback from interns and employers;
Give employers insights into the nature of the current University product in the field of public administration;
Afford students a basis for comparing the abilities and interests with professional-level work requirements;
Provide students with work experiences that introduce the nature of job opportunities in particular fields.
Internships are principally oriented toward the pre-service student rather than the in-service/mid-career student, which compromises the vast majority of MPA students in the School of Public Administration. However, it is sometimes the case for students who have been away from the work world, wish to make the transition from private sector experience to public or nonprofit sector work, or want to explore new professional options, may and do sometimes opt to undertake an internship. 
Internships are usually served in agencies or organizations in a student's primary area of concentration. Students have worked in government agencies at every level/service of the government. Occasionally, students complete the internship requirement in nongovernmental organizations such as not-for-profit health and social service agencies, professional and civic associations, advocacy groups, political parties, labor unions, businesses, and consumer organizations. 
SPA Internships and Approval Form - PADM 555 MPA Practicum
Partial listing of internship agencies hosting MPA students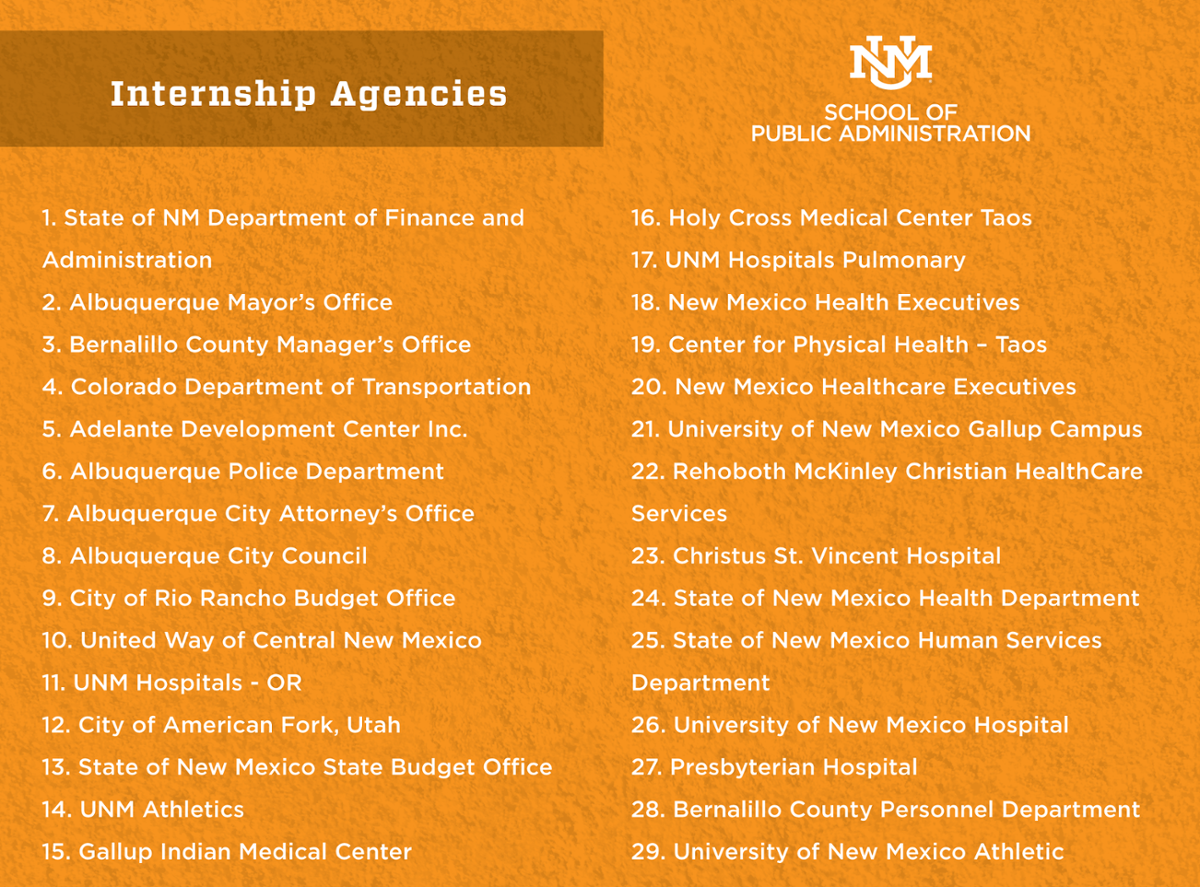 Contact
Rachel Torano-Mark
Graduate Advisement
spadvise@unm.edu / rtoranomark@unm.edu 
505-277-1095